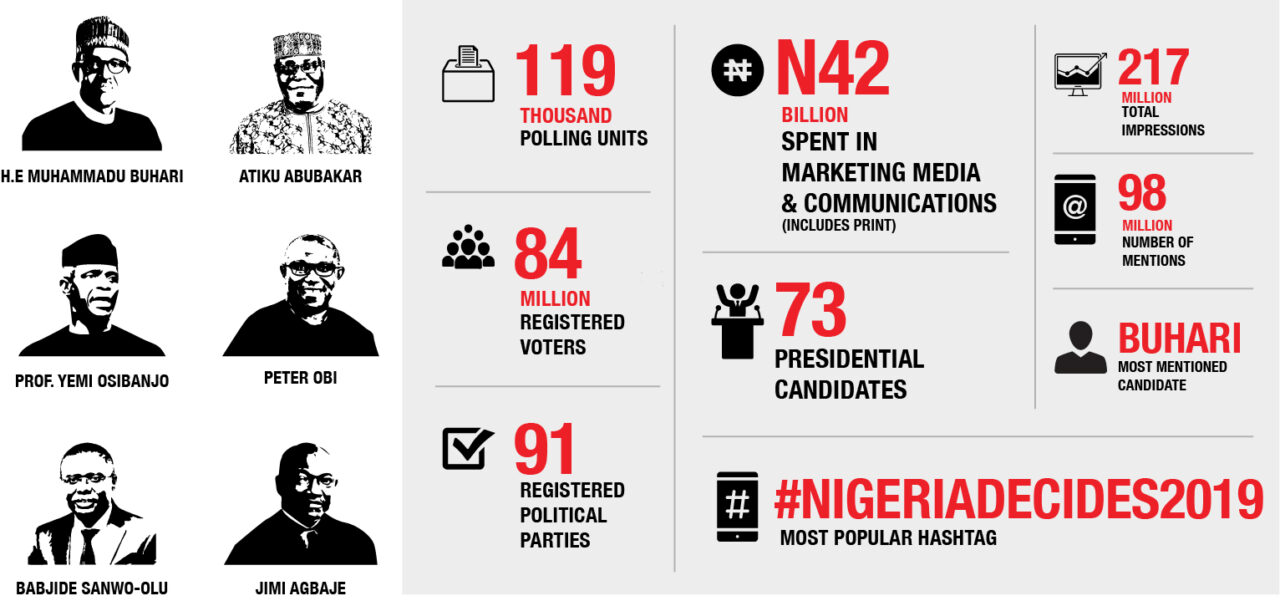 In just a few days, the 4th President of Nigeria's fourth Republic would be sworn into office to serve a second term. The media madness, advertising chaos and sensory overload we endured during the campaigns are thankful, a distant memory.
Many of the complex issues surrounding the elections and politics of the day persist, but from a purely marketing perspective, the campaigns served up a healthy dose of marketing wisdom. We've listed our top 10 lessons down below:
Know Your Audience
After President Donald Trump's remarkable victory in the U.S Presidential elections in 2016, marketing doyen, Al Ries summarised the astonishing result in his post mortem published in the Wall Street Journal. According to him, "the better product doesn't necessarily win in the marketplace, and the better person doesn't necessarily win in the political arena. What does win, more often than not, is the better marketing strategy". There is perhaps no more important component of the marketing strategy than the people to whom one is marketing.
Just like the American President who courted his base relentlessly, President Muhammadu Buhari stuck true to his audience, understanding their affection for his "perceived simplicity" and "uprightness", and reinforced those attributes to gain some advantage. Of the 22 states he visited, 13 were in the North, moulding his narrative as a "battle between the elites and the masses", a choice between the "lesser of two evils".  
On the other hand, the PDP's audience strategy appeared targeted to a more sophisticated audience, people who would understand the need to "Get Nigeria Working Again".
Perception is Reality
You have probably heard it a million times, perception is reality. Where a perception has been created, whether or not it's true is of no consequence. That perception sticks, influencing the response to the object or person being perceived.  One of the greatest weaknesses of PDP's marketing approach to the 2019 elections, is that it was unable to dispel the several perception concerns surrounding its entire party and its Presidential candidate.  
Both Presidential candidates had parity where their geographic heritage is concerned, so it seemed like an odd bit of strategic thinking on the part of the PDP to completely ignore the perception issues surrounding their candidate. With customer perception playing such an important role in decision making, it is suicidal for marketers to ignore or neglect to influence the perception of their brands or businesses. Thus, customer perception is a priority.
Master Social Media:
Social media is an integral part of any marketing effort, and if deployed properly, it can deliver results. While social media marketing definitely works, the 2019 election reinforces the fact that for a social strategy to succeed over the long term, it must be balanced with useful data and include traditional platforms.
The pervasiveness of smartphones across the country, and while internet penetration grew more than 57,000% between years 2000 and 2019, only 16.6 million Nigerians actively access Facebook. Not every Nigerian is on social media, and understanding how those that are online use the platforms is critical.
We applaud Babajide Sanwoolu's campaign team for doing a remarkable job of humanising his brand by consistently replying messages and engaging in conversation.
Connect- Real Time
The world is in such a digital frenzy that it seems like any marketing program that is not anchored on digital platforms is destined for failure. This is a grave misconception. Like customers, voters, are real people with real concerns. The most effective marketing blends both off and online mediums to reach these targets; online or offline.
The Vice-Presidential Candidate of the PDP broadened his appeal amongst his base by interacting with them real-time on several platforms, including visits to Computer Village in Lagos and the Trade Fair Complex. The incumbent Vice President took this connection strategy further: whenever he visited a state to launch the Market Money program, it is reported that he also paid unscheduled visits to the homes of citizens and communed with them.
We encourage marketers to emulate these candidates by adopting a strategy that combines online with offline opportunities to connect with real people, as this combination can produce significant results.
Entertainment Works
It's difficult to quantify the political value that music star Davido brought to the campaign of the PDP governorship candidate in Osun State, but he clearly helped generate significant marketing interest. Davido's endorsement of the PDP candidates and his entertainment performances also helped mobilize youths within his fanbase for his candidate.
In a similar vein, KWAM 1 has been an ever-present feature of APC's on-ground campaigns. His musical performances create an atmosphere of comradeship and revelry, allowing rally participants engage with candidates messaging with relative ease.
Marketing programs that embrace elements of entertainment can win with consumers. The reach and influence offered by popular icons provide a meaningful outlet to share a brands story and cut through the digital clutter while doing so.  
Keep it Simple
How do you say "Get Nigeria Working Again" in Hausa, Ibo or pidgin English? What do you say to persuade voters on the highest hills of Bauchi or the inner creeks of Bonny to vote for you? The best marketing slogans are short, simple and memorable.
They focus on a singular message, with a promise that is believable. For the PDP candidate, his slogan only raised more questions- what part of Nigeria was he going to "get working again", and more importantly, how? What were his proposals and what did they mean for the average man?
Contrast that with the simplicity of "Next Level". It wasn't that "Next Level" was in itself more believable, it was simpler. Even though execution was weak and the APC battled to cover its embarrassing mistake of blatantly plagiarising another brand's design, the straightforward tone it adopted might have resonated more across board.
Be Aggressive
Notwithstanding the fact that he seemed to enjoy the sympathy of a section of his party members, Babajide Sanwoolu, the candidate of the APC in the governorship elections campaigned like never before. Every nook and cranny of Lagos state was filled with posters, billboards and signposts of Sanwoolu.
However, when it comes to creating and building awareness, how do you remain top of mind without being overbearing? Lagosians had had enough when Sanwoolu's campaign became conversation starters, conversation drivers, memes on social media and even a reason to rant when driving down a street in Lagos. However,  as a new candidate whose name was not yet known aggressive marketing was much needed.
 Build Your Own Brand
Many people restrict the term 'brand' for business marketing, but this term has expanded far beyond what people understand it to be. Your brand is the sum total of everything you are perceived to be, it's your identity- a mental shortcut that rational thinking.
According to Bonnie Siegel of the ASE Group, "Most candidates don't think of themselves as a brand. But in order to be a successful candidate today, when campaigns are competing for attention with sophisticated brand advertisers, they should start".
A strong brand extends beyond the party logo and a candidate's mandate. It includes their public image, perception, personality, and values.
During the 2019 elections, we witnessed an increase in candidate personality branding. More candidates saw the need to craft their own narrative, which allowed them distinguish their offering from that of their opponents.
Be Intentionally Human & Likeable
As a corollary of the above, in building your brand, it helps to be as deliberately human as possible- nobody likes the aura of a brand perceived to be fake.
Osinbajo's decision to go door to door helped portray the picture of a devoted leader and relatable citizen. Sanwoolu attended the annual social media week in Lagos and interacted with attendees. His campaign team regularly shared behind-the-scenes photos of his campaigns to drive home his "humanness".
Both candidates realised the importance of building relatable brands that were likeable. You may not necessarily post pictures of your day to day or share what you ate for dinner with the world, but you can deploy deliberate strategies that share your vulnerability with your audience. This can sometimes come across as sincere and win the sympathy of your targets.
Don't "Sniff Your Own Stuff"
Last but by no means least, paying multitudes of people to appear at rallies and then marvelling at the sheer volume of the crowd (as a measure of popularity) is the equivalent of "getting high on your own supply".
It's inevitable that marketers would sometimes need to create the perception of popularity and acceptance, but that must be achieved within reason.
Numerous political parties engaged in "voter mobilization"- (the act of paying impoverished Nigerians to participate in rallies), and then dispersed photos, videos and excerpts as a sign of their growing acceptance. The grave danger here is, many actors within these parties began believing that "rally performance" was a barometer for measuring the perception of the public towards their party or candidate.
As marketers, we often lose sight of the things that are really important in order to justify our marketing investments.