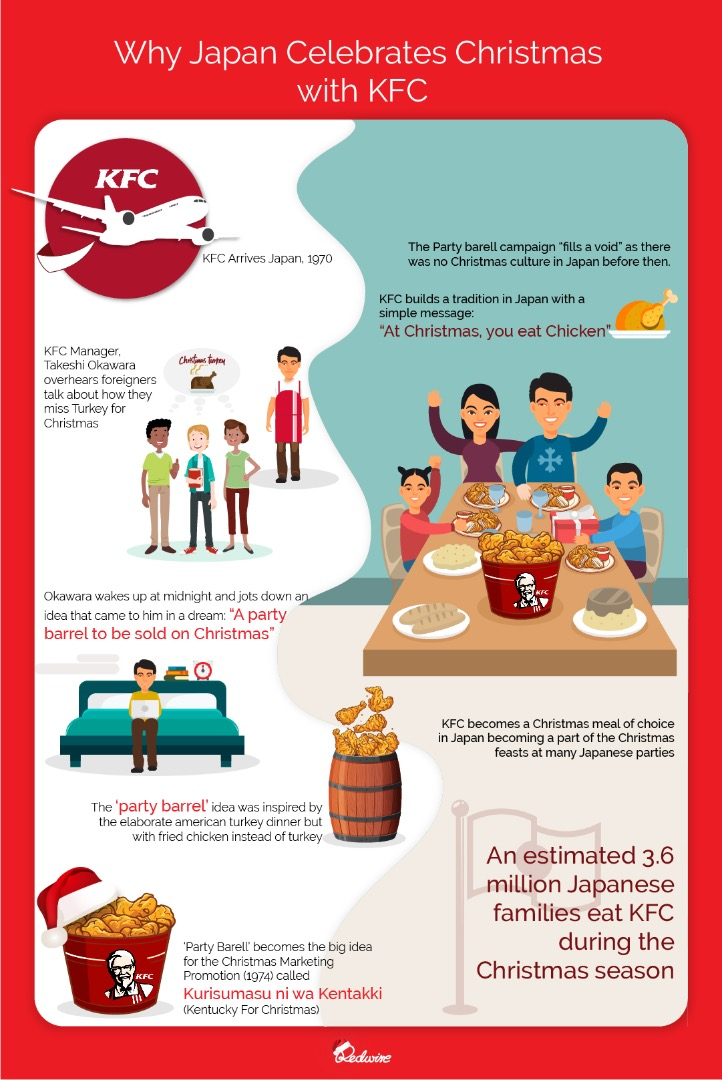 The Japanese Christmas celebration is one Christmas tradition that is widely known across the globe. Around December 25, families gather around the table to eat a bucket of fried chicken in commemoration of the annual event– But then it's not just any Fried Chicken. A report by BBC shows that Every Christmas season, an estimated 3.6 million Japanese families treat themselves to Kentucky Fried Chicken in what has become a nationwide tradition. Not everyone partakes in this tradition though, as a few others in Japan who treat it as a romantic holiday (similar to Valentine's Day), go out on dinner dates with their spouses in upscale restaurants. But for the many who subscribe to what has become the new norm, they'd have to be proactive if their hope for a KFC special Christmas dinner is to be realized. KFC restaurants in Japan are so busy during the Christmas season – Orders for The Special Christmas Dinner are received as early as November and the massive queues you'd see at KFC restaurants across the country would surprise you.  It's quite astonishing how widely accepted this tradition has become in Japan considering that Christians comprise less than one percent of the population and that Christmas isn't really a national holiday in the country.
This special tradition is a result of a highly successful "Kentucky for Christmas" (Kurisumasu ni wa kentakkii!) marketing campaign that was started in December 1974 by KFC Japan.
But what brought about the campaign? What informed this strategy?
The foundation of this culture can be traced back to one man:  Takeshi Okawara, the enterprising manager of the first KFC in Japan, which opened in Nagoya in November 1970.
It was recorded that Okawara had a dream about selling a party bucket  – "party barrel" – full of chicken on Christmas, and so he kicked-off a one-store campaign to boost sales; but the dream didn't just come to him. He had actually earlier overheard a couple of foreigners in his store talk about how they missed having turkey for Christmas, and how th would take Fried Chicken as a decent alternative during the festive season.