Lessons Every marketer can learn from one of the World's Most Valuable Brand.
Remember the good old days when "apple" was used to only refer to the red or green fruit from the proverbial "apple tree"? It seems like light years ago!
Nowadays, when people speak about "apple"- at least within the business community, they're more likely than not referring to the omnipresent conglomerate that transformed communications and the digital experience for millions of people across the globe.
From iconic smartphones to re-imagining the way humans experience entertainment, music, and sound, Apple has become one of the most influential and valuable companies in the world.
Driven by a design-first philosophy, Apple has transcended the narrow tech space and evolved an entire universe for itself within the luxury lifestyle brand. What's truly remarkable, is that the company that nearly filed for bankruptcy in 1997 became the world's first trillion-dollar company around August 2018.
Apple's success is no mistake. The corporation's rise from the brink has been propelled by a consistent strategy of innovation across virtually every area of its operations, especially its marketing operation. Every aspirational brand or business can take significant lessons from the conglomerate's dominant performance.
Simplicity
Steve Jobs is rumoured to have worshipped iconic Renaissance artist, Leonardo da Vinci, and so it's no surprise that he adhered religiously to the famed aphorism attributed to da Vinci- "simplicity is the ultimate sophistication".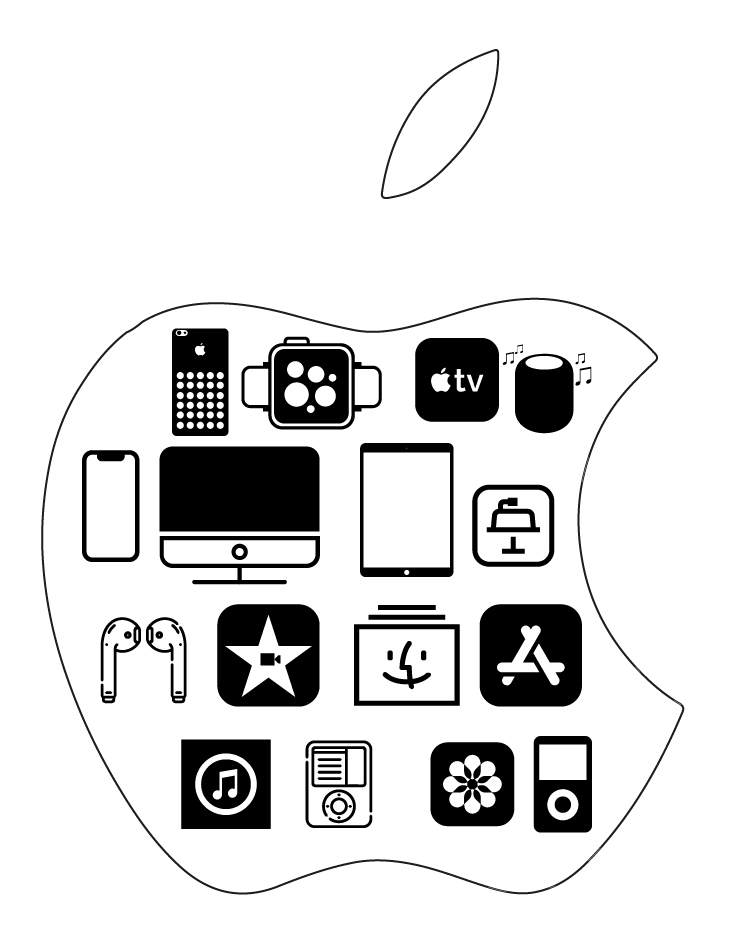 In the beginning, Apple's approach to innovation was based on the core tenets of simplicity. Advertising and other marketing messages were incredibly straightforward- no loud noise and flashy colourful graphics, the brand simply used clean, clear ads to pass across its messages to consumers.
Its products were also designed to appeal to the basest yearnings for an interactive experience. Apple simply lets the products speak for itself. This serves as a big lesson to brand marketers. It is important to ditch the complexities of ambiguous words and flashy noise.
Rather, content should be clean, clear and concise, using simple graphics and pictures that effectively translate your brand message adequately. Moreover, in keeping things simple, before an Apple product is unveiled, the brand withholds information from consumers thus creating a mystery and speculation about the product.
Storytelling
Apple is one of the earliest adopters of storytelling in marketing. The early marketing and brand building efforts were constructed around creative stories that drove the essence of the brand into the hearts of its targets. Steve Jobs used his masterful storytelling tactics to launch each product before a diverse audience, immersing them in an emotionally-charged atmosphere specifically constructed to elicit a wide variety of reactions- even from the most cynical journalists.
Consistency
In telling its stories, Apple relies on consistency to reinforce its ethos and identity assets. The company arrests the attention of the world with its unique storytelling capabilities but sustains it by sticking to consistent innovation and messaging strategy. Because customers know what to expect, legions of them camp overnight for the latest gadget- even when they practically have the same device already in their pockets!
Since its inception, Apple has built its brand consistency with series of products that reinforce the company's central identity- sleek elegant products that push the boundaries of innovation, sticking to their brand philosophy of "Thinking different". And the act of thinking differently represents; smart, innovative, clever, and creative. Branding is about controlling perceptions of your products and also making sure people are buying the product in the first place.
In today's super-saturated media,  you need a precise and finely tuned message that can hone in on the ideal customers for your product. Steve Jobs built Apple around a particular set of core values and a customer-focused narrative.
Consistency, from product to core values, reinforces the beliefs of an audience. It tells a customer they can always rely on you to deliver on your promise, and we see that same kind of narrative in companies like Nike who always use powerful stories to elevate the brand and forge connections to better engage their customers.
Emotional Connections
Steve Jobs once said that "The chance to make a memory is the essence of brand marketing." Good branding engages emotions, not just reason, and builds on that connection to create a memorable identity.  Not only does Apple attract consumers with its global branding consistency and sleek products, but it also caters to buyers emotions.
Apple has clearly gone to great lengths to understand their target customer; how they think, how they speak, the language they use, their habits, likes, dislikes and more. They know how to talk to customers in their own language rather than trying to talk to them like a salesperson. That kind of understanding creates an amazing bond between a prospective customer and a brand, and, a lasting connection for an existing customer.
No matter how entertaining or creative your brand campaigns are if there's no emotional connection with your audience, your marketing strategy is likely to miss its mark.  It is this emotional connection which has cultivated such brand loyalty among Apple fans and enable them to get away with pricing products so much higher than competitors. If you want brand loyalty, do as Apple did- emotionally connect with customers and start a movement that you believe in. the rest will certainly follow.
 Community
Over time, Apple users have formed a tight community that includes people from all walks of life and virtually every continent on the planet. Executives, artists, musicians, designers, professionals, writers, kids, teens and retirees.  It's this active community that helps to promote the product both within the active users and customers as well as outside to potential prospects.
Apple leverages this community by taking advantage of the testimonials and reviews. Apple knows it serves an elite audience of the most devoted users, but that devotion is one of the main driving forces behind the brand's growth. This is a simple tactic any brand can utilize, especially with the number of tools available that help e-commerce brands bolster conversations with social proof through testimonials and reviews.
Lead, don't just follow
The concept of the smartphone was around for several years before Apple decided to venture into the industry. Job's saw an opportunity to dominate the market instead of chasing behind what other industry leaders at the time were doing. Apple built a basic concept, created its own genius operating system and topped things off by building and designing the touch screen.
Apple further went on to revolutionise the concept of digital music by creating product and services that made digital music widely accessible to millions of people around the globe. In a competitive marketplace such as the tech industry, it natural for businesses to compete with each other.
However, in competing, it is important to take the lead by taking charge and going against the grain. This does not mean that competition should be ignored but the bulk of branding efforts should be focused on breaking new grounds and barriers and differentiating your brand strengths from that of competition